Custard Factory, Birmingham 19th Sept 2003
- Jah Tubbys World System -
( NOT in Action )
** Apologies to everyone who went to this session **
Due to a severe accident on the M1, the Motorway
was completely blocked going Northbound.
We were stuck in this Roadblock from just after 8pm
until 1am!!!!!.
( if you don't believe it look at the pictures below )
Despite sitting around in the Traffic Jam for 5 Hours,
we didn't want to let the Promoter & the People down,
so we continued on towards Birmingham and
we finally arrived at the club @ 1:55am.
We pleaded for the Club to give us a extra hour so
we could still String-up-the-Sound and play for the
People, but unfortunately the club would not allow this.
So we played a few of our new releases on the PA
System & Dixie, Errol & Gregory gave everyone a quick
preview by singing pieces of there releases.....
Then the session was Done!!!
Here is a veiw of the M1 Motorway....
It's Ram Jamed to compaction for Miles !!!
Prof. Natty Just coming back from a walk along
the Fast lane of the M1 Motorway.
( After sitting around for hours, you have to
stretch your Legs.... )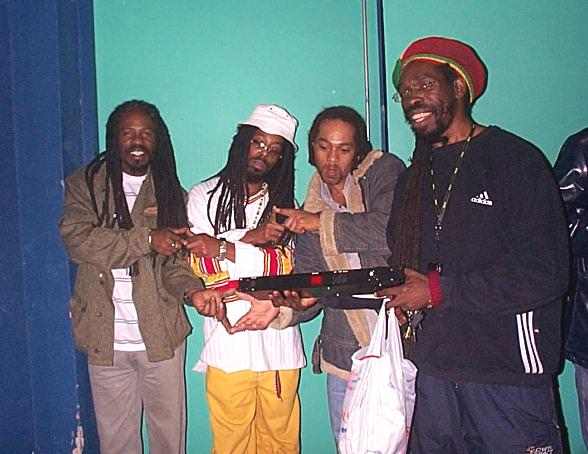 Errol Bellot, Gregory Fabulous, Dixie Peach &
Prof. Natty ( Holding our New Sound Effects Unit )
after the ( very short ) Session
Well....We finally reached the Custard Factory after
leaving London @ 6pm....8 Hours to travel from London to
Birmingham... that must be the Longest journey time Ever....

A special thanks to everybody who came to this session
To many names to Mention, but we will be back Next
Month and hope to see everybody.
Don't Forget the next Jah Tubbys session here
@ the Custard Factory is Friday 17th Oct 2003......

Ok..... It's Time To Go - Trodding back along the
M1 to London.........Until The Next time......