JAH TUBBYS SOUND SYSTEM.....

---

Jah Tubbys Sound In Session -Pictures
For Sound System Equipment
( Amps, Pre-amps, speaker's, Sound effects, Etc )
--- Click Here ---
Brixton Recreation Centre, London 1st March 2002
- Jah Tubbys World System -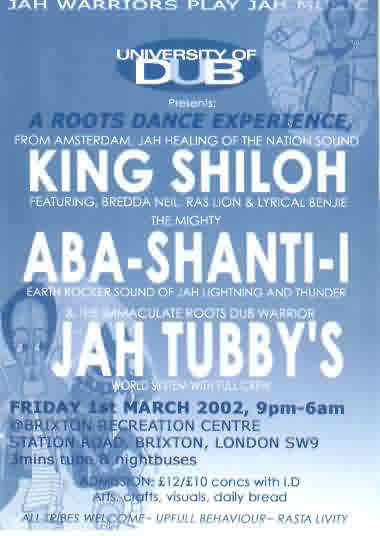 We have to apologize to all the people that came to this session, that due
to some kind of Electrical fault within the building the Mains power kept
switching off and cutting the Sounds off.
A special thanks to everybody who came to the session to support us.
There are only 3 photo's of this session as everybody was busy trying
to get some Mains power so we could play...............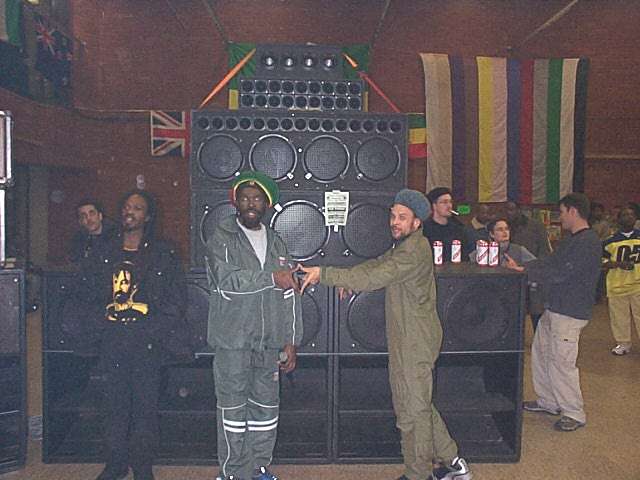 Errol " sound ina Fury "Bellot, Prof. Natty & Stamina in
front of 1 set of our speaker boxes ..... ( before the power cut off )

Dixie " Pure Worries "Peach, ina Upfull vibes ready to sing
his new releases ..... ( before the power cut off )

Prof " give us the power " Natty ready for a nice session....
.......Just before the power cut off


Don't Forget the next Jah Tubbys session @ chinnery's
Club, is on Friday 15th March 2002 ......
Chinnery's Club Marine Parade, Southend Seafront

E-mail