JAH TUBBYS SOUND SYSTEM.....
---
For Sound System Equipment
( Amps, Pre-amps, Sound effects, Etc )
--- Click Here ---
Jah Tubbys Sound In Session -Pictures
Chinnery's NightClub, Southend 28th Dec 2001
- Jah Tubbys World System -
** New ** ** New ** ** New ** ** New **
If you are coming to any of our session's and would like us
to play a particular tune for you, ( Old or New ) or to send a
shout to somebody or to your crew Click Here...
to send us the details or e-mail -- requests@jahtubbys.co.uk
First tune playing, Stamina Introducing
Jah Tubbys World System....
Prof. Natty touching down @ Chinnery's......
Session just start and everybody's feeling Irie....
Vibes are flowing and Prof. Natty is Bubbling.....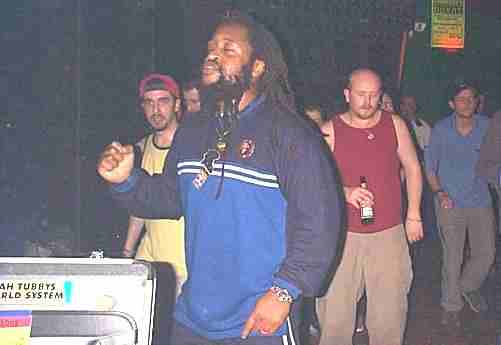 Session is warming up nicely ina Chinnery's Nightclub...
Make some space..... Stepper's crew coming through.....

Stop the Dance.....It's not a Bluff .... It's true....
It's raffle time... Prof. Natty Give a Lucky Gentleman
his prize - ( it could be you @ our next Session )....

Last Tune Playing, Session nearly over,
Good peaceful vibes all night......
Last Tune's played, Time To Go,
Thanks to those who helped out and to
everybody that attended the session
Big respect to Rod, Richie, Jeff (Jah Free), Dean,
Stan & crew from Northampton,Terry, Paul, Bernie from
Denmark. And a special shout to all the Southend Massives
( Including Ladies )for there support over all these Years........
Dont Forget Part 2 of this session is here
@ chinnery's on Friday 1st Feb 2002 ......
Chinnery's Club Marine Parade, Southend Seafront

Ok..... It's Time To Go - Until The Next Session...

E-mail