JAH TUBBYS WORLD SYSTEM....

---

Jah Tubbys World System In Session - Pictures
For Sound System Equipment
( Amps, Pre-amps, speaker's, Sound effects,Etc )
--- Click Here ---
Slip End Recreation Centre, Luton 27th Dec 2002
- Jah Tubbys World System -
Due to a System Crash with loss of Data,
including loads of files & pictures these are the
only photo's that we could recover...
Prof. Natty & Mr. Stamina having a rest after
setting up the Hyper Power World System.......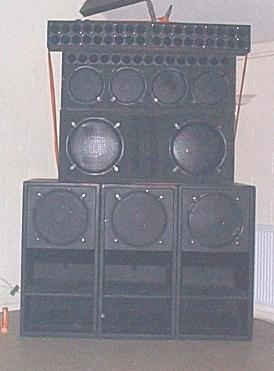 1 set of our Boxes, strung up ready to play ......

A special thanks to everybody who came to this session
and helped contribute to making it a night of enjoyment
and good vibes.

Ok..... It's Time To Go - Trodding back along the
M1 to London.........Until The Next time......

E-mail